Tuna Wahoo Charters Customer Reviews
Ratings & Reviews Summary -
4.9737 reviews
Great crew. My son-in-law got his fist sail on a rough day made very enjoyable by the expert crew. A great time had by all.
no more
RT
Richard Thiel
March 12, 2023
I had an amazing time yesterday on my trip. It was my first time fishing off shore fishing in the Atlantic, and I am so glad that I chose Tuna Wahoo Fishing Charters. Meeting up with Captain Rich Adler and first mate Paul was like meeting up with friends you haven't seen in a while. The fishing was amazing and the conversation and Information I learned about the fishing there was great as well. I will definitely book another trip with them the next time I am in West Palm Beach
AH
Andrea Hammad
January 21, 2023
Booked the trip for my son for his 8th birthday. Captain Rich was very nice and made the experience successful for the kids and enjoyable. Our son was very excited about the fish he caught and had the best time, thank you so much! 
no more
Despite the cold and wind, we were able to land numerous fish.
no more
KR
Kevin Riggan
December 20, 2022
My family and I had a wonderful day with Captain Rich and Paul. They made the trip fun and excited for my family. Thank you guys!
no more
TY
Todd Yonts
October 29, 2022
Awesome time will be back for sure!!!
no more
Captain Rich and first mate Chad made the trip incredible! Great people with tremendous attention to detail and over the top made us feel comfortable.
Read More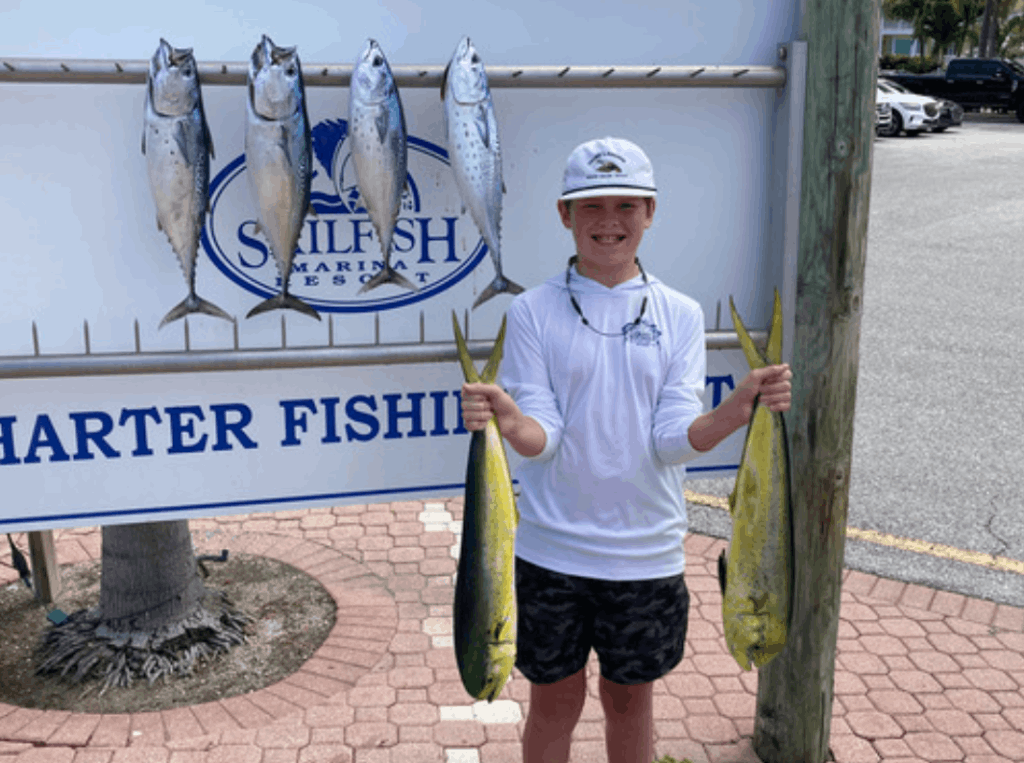 Rich was a great Charter option and helped some inexperienced fishermen have a wonderful day on the water! Caught more fish than any other boat that went out that day!
no more
RD
Richard Duncan
May 25, 2022
This was our second trip with Captain Rich. He is a lot of fun to fish with. His deck hand Chad and him work very well together. We will be booking a 3rd trip with him on our next time do the area. Great location, quick to get out on the water.
no more
TS
Tanya Schneider
May 23, 2022
Captain Rich is a very skilled captain and takes care of everyone on board. My son fulfilled his dream on our trip catching his first and second Mahi. We also caught a couple nice bonita. Captain Rich celebrates your victories with you and works hard to catch fish!
no more
Great Captain and Mate. These two know what they are doing and make the trip fun. I highly recommend Tuna Wahoo!
no more
BD
Bill Davies
April 22, 2022
Good experience with the captain and mate. Fish weren't cooperating, but that's not the captains fault as they tried a number of techniques. We ended up catching a few bottom fish at the end and a decent size shark. I would fish with them again.
no more
Captain Rich and First Mate Chad were great! I booked the experience for my 11 year old son, and Rich and Chad made it a very memorable experience for both of us. Highly recommend booking this charter!
no more
CH
Christopher Haley
March 2, 2022
Nice boat great crew not much more one could ask for
no more
AC
Angela Combs
December 27, 2021
Thank you for making our Christmas Day extra special! Merry Christmas, our family had such a great time.
no more
The Best West Palm Beach Fishing Charter
Tuna Wahoo Charters Customer Reviews are provided by our guests. We focus on providing our West Palm Beach Fishing Charter guests the very best experience. Our Fishing reviews are from trips in Palm Beach, Atlantic Ocean, North Palm Beach Waterway, Lake Worth, Palm Beach Inlet, Lake Worth Lagoon, and Ft. Lauderdale.