Palm Beach Pines State Recreation Area - Palm Beach, FL Fishing Report
Mahi and King Trolling in Palm Beach
Palm Beach Pines State Recreation Area - Palm Beach, FL
Fishing Charter details
Fishing
October 31, 2022
Charley brought his two sons out today and we did some trolling and drift fishing. The troll was good, we got two Mahi and one King Mackerel. When we set up on the drift first the wind died out so we couldn't use a kite, then a storm front organized so I ran in rather than deal with that !
Popularity
No Other Anglers
Water clarity
Very Clear, 6-12 Feet
Scenic setting
Clear & Open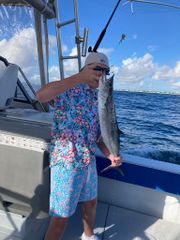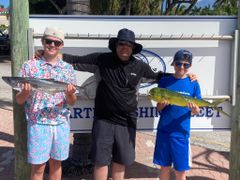 Gear & tackle used:
Bonita strips under skirts !
Check out more fishing reports
Weather data
Forecast
Weather at 12:00 am, Rain, Partially cloudy